This is my amazing testimony! Randy was so great and I love my pool table!
Jon Knoll
September 09, 2017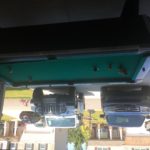 Could not be happier. Excellent service,delivery,craftsmanship!!!!!!
Thank you
Richard Newell
September 11, 2017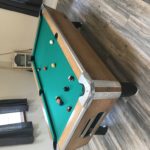 Just received our beautiful valley bar room table. Outstanding experience all the way around with Randy and his company. Would highly recommend his services and products. Looking forward to many years of playing pool on our table. Thanks again Randy and Mary!!
Lia and John Laurella
November 05, 2017
My friend and I decided that we would give this company a shot. I spoke to Randy several times on the phone and he was more than patient. My friend and I both bought tables and are 100% pleased. Not only are the Valley tables bulletproof, Randy and his company made this 30 year old table look like new. I have obsessive compulsive disorder and I\'m very picky. Randy made me feel at home with the purchase, no hidden surprises, returned my calls, and showed up on time from 3 states away. At this point, I believe in my heart that if I had a problem, he\'ll fix it or help me learn to fix it myself. What more could you ask for? 100% honest, Christian businessman. As far as the table goes, it plays perfect and looks great. So much more than a residential table. Thanks Randy!
Shawn Kelley
March 07, 2018
We have thoroughly enjoyed using it as a family at night, been a lot of fun.
Many compliments from friends on how nice it is, hopefully will generate some referrals for you. Meant a lot that you went out of your way to get the table right for us.
Seems like a no brainer to do that, but these days it is hard to find.
Thanks again, I really appreciate it.
I could not be more happy with the quality of product and the professional work randy and his family did for us ,more than once, tables are great I would recommend them to anyone and everyone thank you very much
Hello searchers and buyers of pool tables, I highly recommend Randy and his staff for their work and dedication to make sure you get what you want in regards of your own personal pool tables... Dank.
What an awesome experience!!!! You've got a great guy in Wesley!! He was fast...friendly and informative. I love the pool table. It's beautiful!!!! Thanks for helping me make one of dreams come true! You made buying a pool table so easy and stress free!!! I'm a very satisfied customer!